There are two community parks maintained by the Town of Holly Hill.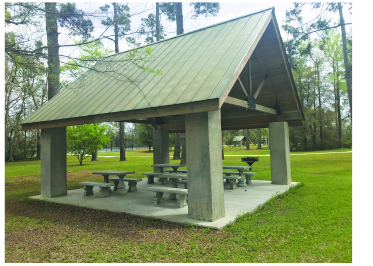 Gilmore Park is situated on approximately seven acres in the southwest section of town, on Park Circle. It contains three tennis courts, an activities building, walking track, picnic pavilions, playground equipment, dog park, and restrooms. 
Francis Folk Park is located on a five acre tract just outside of town limits on Unity Road. It contains a baseball field, basketball court, picnic shelters, concession stand, activities building, playground equipment and restrooms. 
Youth league sports are available year round for boys and girls. 
Other Recreational Services:
The Town of Holly Hill and Orangeburg County offer a wide variety of recreational resources for residents and visitors to enjoy. 
The Santee Cooper Lakes provide 170,000 acres of fresh water for boating, swimming, year round fishing and other aquatic activities.
Lake Marion is the largest lake in South Carolina with 615 miles of shoreline and covering 110,000 acres. It is known for its big fish, water sports, and abundant wildlife. Boaters can even sail to Charleston through the Santee Cooper Lakes' navigation lock. Public access includes public boat ramps, including Indian Bluff Park which is maintained by the County of Orangeburg.  Nearby Santee State Park also offers a boat ramp, in addition to its other amenities.
Golf 
There are many opportunities for golf near Holly Hill. These courses are all within minutes of Holly Hill, are open to the public, and offer very reasonable rates. 
The Orangeburg County YMCA offers a wide variety of programs for people of all ages and interests. Additionally, it operates two water parks in the summer.  One is located at the Y's main facility in the City of Orangeburg. The second is located even nearer to Holly Hill in Santee.
Other nearby recreational resources:
Audubon's Francis Beidler Forest
Santee National Wildlife Refuge